The secret sauce to a rewarding fundraising career: CAGP member Tanya Rumble weighs in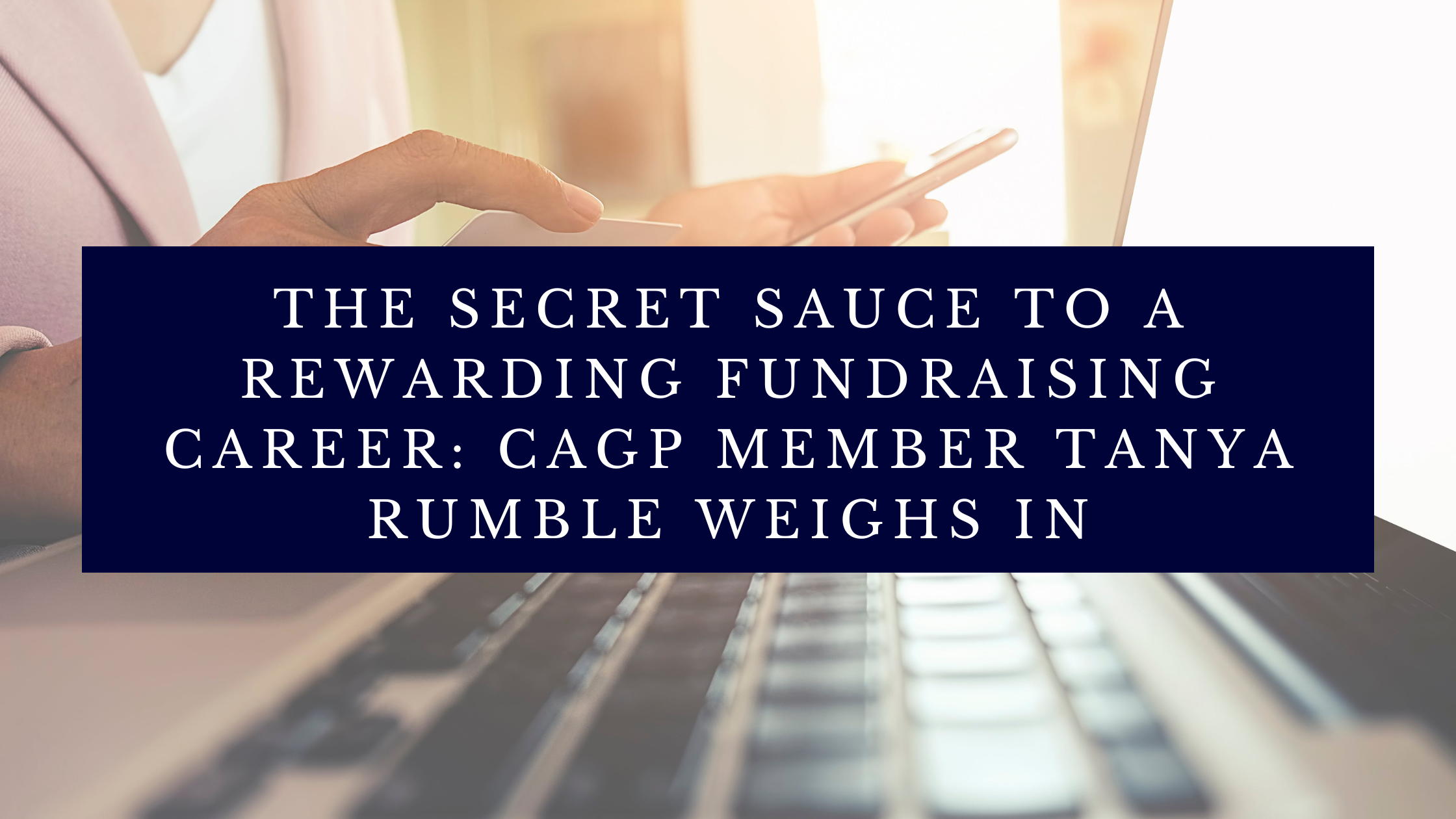 August 30, 2022
Tanya Rumble, CFRE, MFA-P - Member, Advisory Committee on the Charitable Sector, Canada Revenue Agency
Interview by Ashley Gatewood, MA, PCM - Communications and Marketing Director, CFRE
Tanya Rumble, CFRE, MFA-P, knows a thing or two about fundraising. In fact, she knows quite a bit. With more than a decade in the sector, she shares her most notable recent challenges, why she sees professional development as essential for fundraising professionals, and how CAGP membership and the CFRE credential have set her on a powerful career trajectory.
What do you think is the biggest misconception about being a fundraiser?
Depending on the audience it can be a misconception with the role. When someone working in venture capital hears that term they think you help raise money for businesses.
However, when there is a shared understanding of what a fundraising professional is and does, the biggest misconception is that you need to a) be an extrovert to be successful; and b) you need to give up your power and agency to close gifts, particularly from donors with significant social capital.
What is the best career advice you've ever received?
To understand that my lived experience has equal value to my professional experience and not to diminish that in both how I articulated my value in the recruitment process, but to ensure it is valued and compensated for by my employer.
As a Director of Development, what has been your most pressing fundraising challenge over the last 18 months? How have you and your team risen to the occasion?
Talent recruitment has been a challenge sector-wide and one I have also personally experienced. Beyond finding the talent to fill available roles, it is about testing for values alignment and understanding how your team wants to be engaged and work, whether primarily remotely, hybrid, or in the office.
Balancing these considerations with organizational human resources policies and business needs while also trying to optimize your team's quality of work life has been a balancing act. I feel my colleagues and I have risen to the occasion, but it is ongoing work.
As fundraising professionals move up the leadership ladder, it is easy for their professional development to fall to the wayside. You have been highly active with CAGP and keeping up with fundraising education to earn and maintain your Certified Fund Raising Executive (CFRE) certification. What are your tips for making time for professional development when schedules already feel full? Take an expansive view of professional development and consider your role in PD. For example, it has traditionally been thought of as something we receive or participate in. I also view professional development as something you yourself can lead.
For example, at the start of the pandemic, my colleague and I started a philanthropy and equity Community of Practice, now called Recast Philanthropy. The Community of Practice is a brave space for fundraisers and non-profit folks to discuss situations and issues around philanthropy, equity, inclusion, and accessibility that they encounter with donors and volunteers, and within their own organizations.
I see it both as professional development, as I contribute, facilitate, and co-lead the Community of Practice; but I also gain so much insight and knowledge and learn from the other community members. It is truly symbiotic.
I have curated my own learning and development based on my needs and interests, and then plugged into conferences as a speaker and/or participant offered by CAGP, AFP, CASE, CCAE, and others.
It is most important to connect with the content and ensure the timing is manageable and format engaging. The days of sitting with a conference proceeding on Zoom and simultaneously working on emails, etc. are gone.
Fewer and more intentional learning opportunities are important to keep our attention.
Can you talk a bit about the boards you currently serve on and how being a board member gives you an expanded perspective for your fundraising work?
I have served on Boards and committees for over 15 years now. The role of governing and leading an organization has served me in my professional roles.
As a Board Director with AFP Canada, I step outside my professional role as a Director of Development and more broadly consider issues and opportunities for the fundraising profession in Canada.
In my role with the Advisory Committee on the Charitable Sector with the federal government, I have an opportunity to contribute thought leadership and influence recommendations being made about the sector more broadly.
As Board Co-Chair with FindHelp Information Services, which operates 211 in Toronto, I am steeped in the local network of non-profits and social service organizations serving the community where I live and work.
Each role broadens my perspective, expands my network, and gives rise to new ideas and potential collaborations. They ultimately help me be the best professional fundraiser I can in my day-to-day work with a view to the more systemic challenges of the profession and sector writ large.
Many fundraising professionals think, "I'm hitting my targets. I don't need to attend fundraising conferences or courses. I'm sure my learning is up to date." For people with that approach, what would you say to encourage them to take a more active role in their professional development?
Most formal learning events I have attended as of late are less focus on core competencies that will aide you in becoming more proficient in your role as fundraiser. They are more focused on themes and topics that impact the profession and sector that enhance your competency as a fundraising professional.
The profession and practice of fundraising has and, in my view, should continue to move away from what we do—crudely put, raising money—and oriented around how we do it. Topics like:
addressing nuanced ethical considerations with gift acceptance and solicitation practices;
dismantling power dynamics with donors;
building healthy and empowering work cultures;
creating fundraising programs relevant to and reflective of the diverse communities being served by our organizations;
addressing death and dying in legacy giving relationship conversations; and
building fruitful partnerships with professional advisors and other charitable organizations.
These are of interest to our sector and offered at many events. It excites me to see the content being circulated in the community and the informal and formal communities of practice being formed around them.

When did you first join CAGP and what do you view as the most valuable aspect of being a member?
I joined after hearing Paul Nazareth speak at a conference and feeling like strategic planned giving was a space within fundraising I wanted to explore further.

In early 2018, I registered for the Gift Planning Fundamentals course in Ottawa. It gave me the confidence and fortitude to apply for a role leading a gift planning program at my alma mater.

I would not have applied if not for that course. It gave me community. The folks I met at the training and subsequently the Strategic Gift Planning Bootcamp I attended in 2019 are still trusted friends and colleagues today.

I continue to see the community, the ability to reach out and get advice from a fellow CAGP member, as the most valuable aspect of the membership along with the fantastic trainings.

In 2017, you became a Certified Fund Raising Executive (CFRE). What motivated you to earn a fundraising certification?
I, like many others, had fallen into fundraising—or made a strategic choice to move from a career in public health to health fundraising.

I saw the CFRE as a substantiation that this is indeed a profession with core competencies and ethical standards, though many come into fundraising from a variety of professional backgrounds.

I always enjoyed further learning and professional development. Pursuing the CFRE felt like a validation of my experience and commitment to the profession.

What has been the most prominent benefit of being a CFRE?
It provides an immediate and recognizable short-hand for my (and any CFRE holders) competency and experience in the profession.

What advice do you have for others considering becoming a CFRE?
Shh…I did not pass the first time I tested. I was very close but had opted for the self-study preparation method and wasn't successful.

I read a number of books my former colleague Adam Stewart lent me (it was actually him that really inspired me to pursue the CFRE).

Second time around I took the prep course through AFP Toronto and reviewed the study guide and completed a lot of prep tests.

I passed with flying colours! My study notes have now been passed along to at least 10 other fundraisers who took the CFRE. I am glad I was able to pay it forward.

The last two years were full of upheaval and now the word "recession" is on everyone's lips. What do you think will be the number one challenge for fundraisers in the upcoming 12 months?
Our collective and more nuanced understanding of the ethical considerations and challenges within fundraising has increased and forever changed the sector and professional practice. Using the momentum of the social justice uprisings to bolster our own personal approach will be imperative.

Many fundraisers were and are searching for purpose and values alignment in their work. If they can't find it in their current roles, they will seek it elsewhere.

I believe the challenge is to find community to sustain the energy and intention we want to bring to our work.

;