Friend of CAGP Award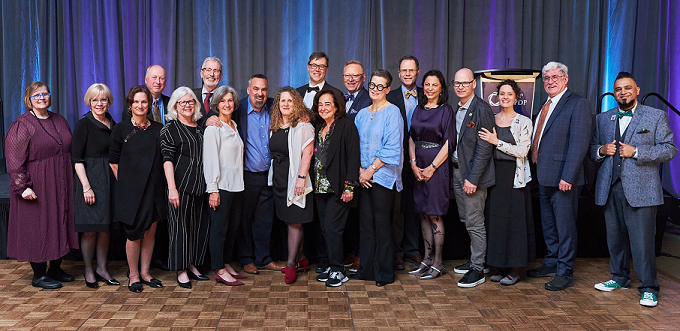 (photo from Vancouver, 2023)
2024 Presenting Sponsor

Each year, the CAGP Board of Directors recognizes individuals who exemplify the spirit and vision of CAGP through the Friend of CAGP Award. This award acknowledges contributions made at the local and national level and which have had a national impact on strategic charitable gift planning.
If you would like to nominate an individual who you feel deserves special recognition as Friend of CAGP, please complete a Nomination Form.
Deadline for nominations is Wednesday, November 1, 2023.
To be considered for the Friend of CAGP Award, candidates/organizations must meet the following criteria:
Have made a significant contribution to the advancement of strategic charitable giving on a local and national scale.
Demonstrate an unwavering regard for the professions involved in strategic charitable gift planning;
Demonstrate leadership with voluntary service in the sector;
Practice and operate in an exemplary and unquestionably ethical manner;
Dedicate their energy, vision, time and talent for the benefit of CAGP's membership.
Special consideration:
In consideration of CAGP's priorities and interests related to diversity, equity and inclusion, candidates who embody consideration for the perspectives, needs or wellbeing of groups that are traditionally underrepresented are given special consideration.
---
In 2023, Calvin Fong and Ryan Fraser have been recognized for their contribution and dedication to the mission of CAGP.
| | | |
| --- | --- | --- |
| Calvin Fong | Ryan Fraser | |
Past Recipients of the Friends of CAGP award include:
2022
Fraser Green, Ontario
Jasmine Sweatman, Ontario
2021
Darren Pries-Klassen, Ontario
Ross Young, Alberta
2020
Terrance Carter, Ontario
Elena Hoffstein, Ontario
Peggy Killeen, Quebec
2019
The Right Honourable David Johnston, Ontario
Laily Pirbhai, Alberta
Doug Puffer, Ontario
2018
Joan Blight, Manitoba
Norma Cameron, British Columbia
2017
Malcolm Berry, Missouri
Brad Offman, Ontario
2016
Grant Monck, LL.B., British Columbia
Paul Nazareth, Ontario
2015
Roger Lee, LL.B.,

Britis

h Co

lu

mbi

a

Michelle Osborne,

CFRE, Ontario
2014
Jill Nelson, Ontario
Beth Proven, Manitoba
2013
Charles O'Neil, Nova Scotia
Linda Lindsay, Manitoba
2012
Greg Lichti, Ontario
Margaret H. Mason, British Columbia
2011
Brian Shea, Alberta
DeWayne Osborn, Manitoba
2010
Janice Loomer Margolis, British Columbia
Susan Manwaring, Ontario
2009
Sara Neely, British Columbia
Martin Massé, Québec
2008
Robert Bédard, Québec
Christopher JK Richardson, British Columbia
2007
Beryl Publicover, Nova Scotia
2006
Ken Ramsay, Ontario
G. Roger Schoenhals, Washington
2005
Dr. Edward H. Pearce, Ontario
Kayla D. Stevenson, British Columbia
2004
Trish Mongeon, Ontario
Judy Davis, Saskatchewan
2003
Danielle Dagenais-Perusse, Québec
Malcolm Burrows, Ontario
Ralph Smith, Ontario
2002
2001
Charlotte Sutherland, Nova Scotia
2000
Paul Martin M.P., Minister of Finance
1999
Arthur Drache, Ontario
Jim Hilborn, Ontario
1998
Carl Juneau, Revenue Canada
Gilbert Lemieux, Québec
1997
Lorna Somers, Ontario
Frank Minton, Washington
Donald K. Johnson, Ontario
;