CAGP moves to implement pay transparency on job postings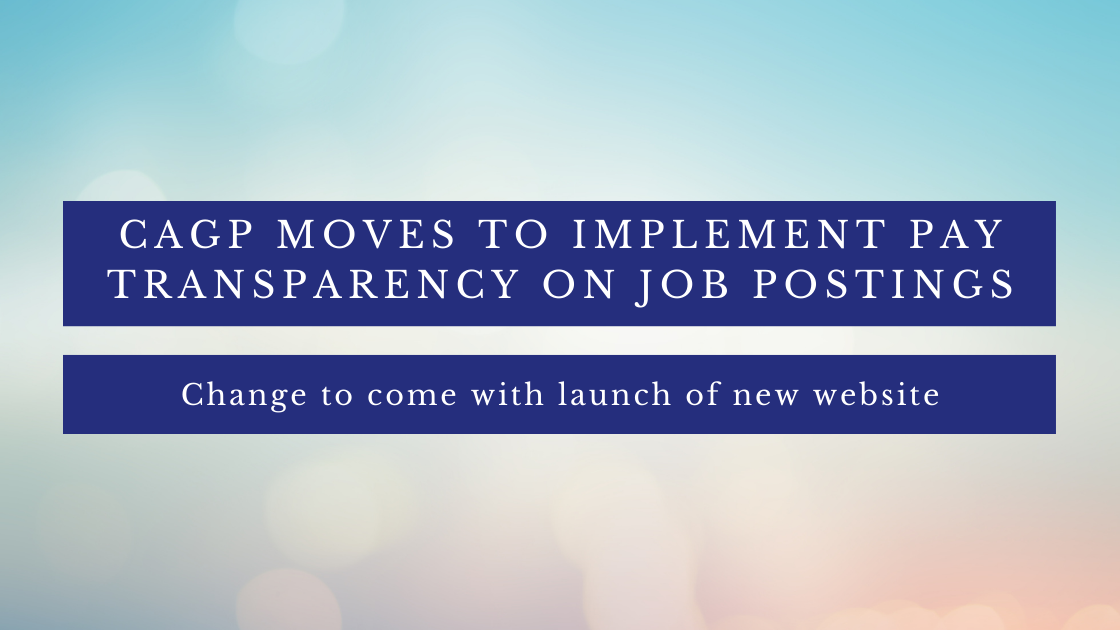 June 7, 2021
CAGP is currently in the process of a full website update. Upon launch of the new website, we will also be implementing a new practice regarding our job board.
Several months ago, we to began strongly recommended the disclosure of salary ranges for customers making use of our job board. At this time, we believe a more overt stance on this issue is an important message of leadership for our sector.
Going forward from the launch of the new website, all new job postings will be required to disclose the salary or pay scale for a position.
There's a commonly held belief when it comes to talking about salaries: "Whoever mentions money first loses.". Who is losing matters to us. It's women, it's people of colour, it's people from marginalized communities, immigrants….By encouraging this pay transparency, we seek to continue to be known as a job portal for top talent to find employers who value nonprofit sector professionals and are committed to equality and diversity in their workplaces.
CAGP's current strategic plan guides us to find ways to consider issues related to diversity, equity, and inclusion, and this update to our job board policy falls in line with this strategic desire to make changes that promote fairness and transparency in the sector. While this is just one small step in CAGP's journey, we know it is an important one, and in line with changes happening across our sector.
Why show the salary?
There's ample evidence that salary negotiation is not a fair process. For example, negotiation behaviours are perceived very differently depending on if it's a man or a woman doing the negotiating. And Black candidates are often discriminated against and secure far lower salaries than their white counterparts. By hiding the salary, and relying on negotiation, employers are unintentionally putting these candidates at a disadvantage.

Research from the UK has shown that you'll get MORE applicants by showing the salary on your job posting. The UK charity sector's biggest jobs board recently shared that you'll likely get twice the number of applicants if you show the salary. And a whole lot of those extra applications are likely going to come from those groups who are discriminated against when salaries are hidden. If you have a mandate to work on diversity, equity, and inclusion in your organization, simply showing the salary will go a long way to help widen your pool of applicants.

*Information adapted from https://showthesalary.com/why-show-the-salary/

Read more on why showing the salary is important in 2021 and beyond

https://nonprofitaf.com/2020/09/not-showing-the-salary-range-in-job-postings-is-archaic-and-inequitable-so-why-do-we-keep-doing-it/

https://gap.hks.harvard.edu/do-women-avoid-salary-negotiations-evidence-large-scale-natural-field-experiment

https://www.hrdive.com/news/pay-gaps-for-black-jobseekers-may-be-partly-tied-to-salary-negotiations/540553/

https://www.socialtalent.com/blog/recruitment/7-reasons-why-you-should-include-salary-range-in-your-job-postings

https://charityvillage.com/in_everyone_s_best_interest_why_you_should_disclos_salary_in_your_job_postings/

We wish to thank those organizations currently providing salary ranges on our job board and encourage them to continue their efforts toward ending discriminatory recruitment practices.

;