Achieve the MFA-P™ Designation as a Philanthropy Services Specialist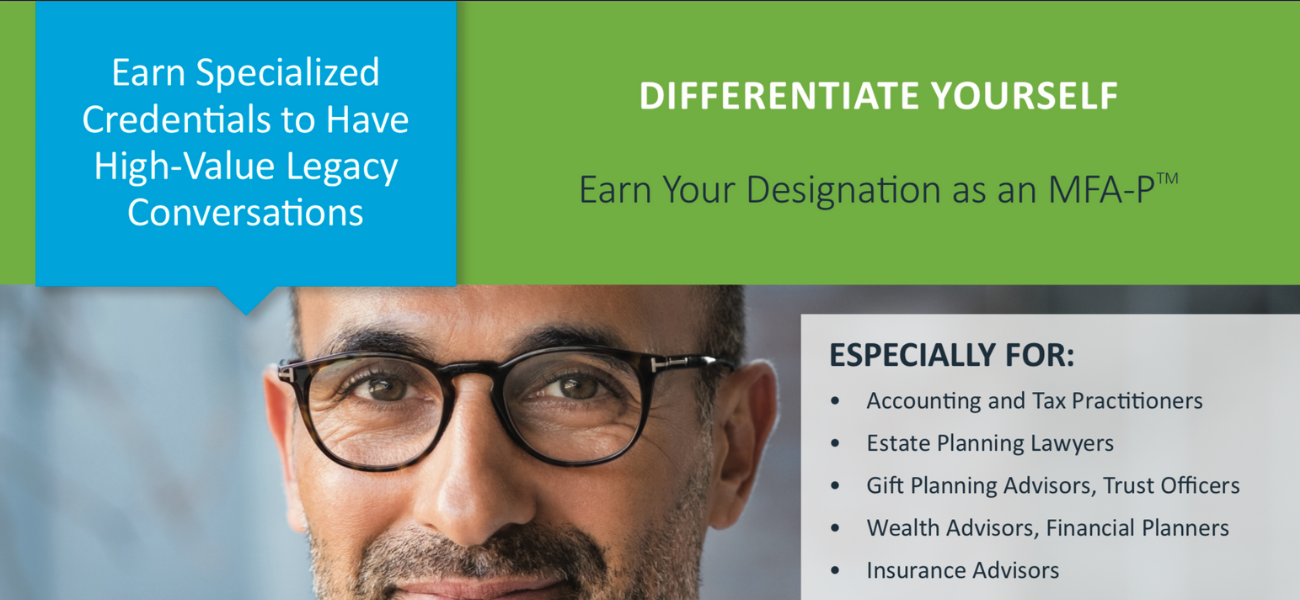 September 5, 2019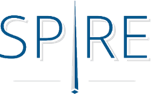 GIFT PLANNING DESIGNATION FOR ADVISORS AVAILABLE
Together with Knowledge Bureau and Spire Philanthropy, we are pleased to announce that all three online courses in the MFA-P™ designation program are available. The program, which has been written and tested over the past year, will allow advisors to obtain specialized professional credentials that enable them to provide formal gifting plans for individuals and families interested in strategic philanthropy.
In doing so, qualified advisors will address an investment trend that is increasingly important to investors of all ages. Graduates of the program will be able to increase opportunities to build trust with their clients by better understanding their clients' values and critical personal causes. Using their new skills in approaching the gifting conversation with a professional process, they will be better positioned to provide high-value advice that enables philanthropic goals.
The three courses in the program will address three key benefits for advisors and their clients:
How to incorporate philanthropy into their practice in pragmatic terms
How to focus on gift planning strategies and vehicles that are relevant to the client's goals
How to integrate client goals with the right solutions by understanding the charitable sector better.
The third course in the program features exposure to practical case studies and strategies used by some of the most experienced charitable gift planners in the country.
Individuals and firms interested in enrolling their advisors in the MFA-P™ designation program may do so now and take advantage of firm-wide discounts as well when two or more advisors pre-register online as a group.
The flexible program features personal instructional support and includes all materials to complete the course and testing requirements. Time to be spent on the program varies with individuals, but an estimated 60 hours over a one-year period is the recommended study period.
"We are delighted to announce the completion of this online program for registration this month," says Evelyn Jacks, President of Knowledge Bureau. "All of our partners and faculty members have worked hard over the past year to develop a designation program that will be of particular value to advisors working with high net worth clients, as well as those who want to tap into the investment preferences of clients who put social impact on the top of their investment policy statements."
"We are excited to see our dream of a designation program at CAGP come true with the birth of the MFA-P™ Philanthropy Designation Program," says Ruth MacKenzie, President and CEO of CAGP, "and look forward to welcoming advisors from all sides of financial services."
"I am looking forward to working with firms and advisors to engage in this important industry designation that will add further trust and credibility to the work of advisors, and impact on charities in Canada," - Brad Offman, CEO of Spire Philanthropy. Firms interested in offering the program may wish to schedule an information session on the MFA-P™ - Philanthropy Designation. Please contact Brad Offman at brad@spirephilanthropy.com.
To enroll in the new online program please see the MFA-P™ landing page, or for personal assistance please contact Knowledge Bureau at 1-866-953-4769.
;