GivingTuesday – leveraging the opportunity for your organization and your community

November 1, 2016
Category:
Most people know about Black Friday and Cyber Monday…but do you know about GivingTuesday? It's time to get ready, because Canada's fourth annual GivingTuesday happens on November 29th, 2016.
What is GivingTuesday? Just as Black Friday and Cyber Monday kick off the holiday shopping season, GivingTuesday is the opening day of the giving season. The GivingTuesday movement encourages charities, businesses and individuals to join together and find ways to give back to their communities and causes they care about throughout the holiday season.
There is no "right" way to participate as long as it supports generosity and giving. For CAGP chapters, members and Leave a Legacy groups, GivingTuesday is a great opportunity to enhance the conversation about major gifts and planned giving. This article explores some ideas and ways you can get involved to benefit your organization and your community.
GivingTuesday has proven to be a very important fundraising opportunity. Last year several giving platforms reported significant impact on donations. CanadaHelps has seen a lift of 302% since 2012, before the start of GivingTuesday. Also in 2015 there was a 28% increase in monthly donors as a result of GivingTuesday campaigns.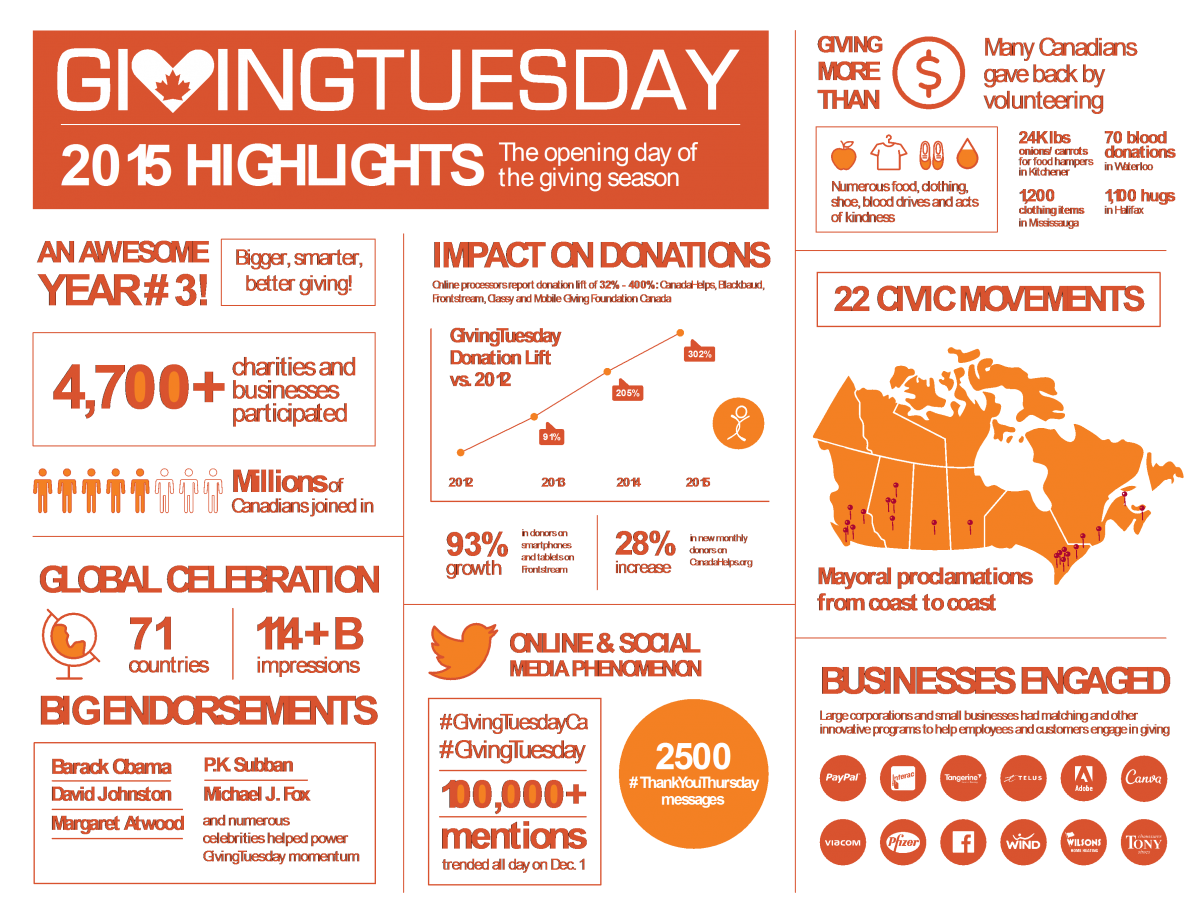 Why Participate? GivingTuesday is a great way to engage staff, your board, volunteers, major donors and the public to participate in a global movement for generosity. It's an excellent way to get an early start on end of year gift conversations or launch an annual campaign with a bang. You can also use the day to say thank-you, make an announcement or celebrate a big gift. It's a great way to tell your story, raise awareness for your cause and inspire your donors and the public with how you make a difference. All GivingTuesday campaigns benefit from the GivingTuesday social media buzz and the collective voice of the generosity community.
Ways to participate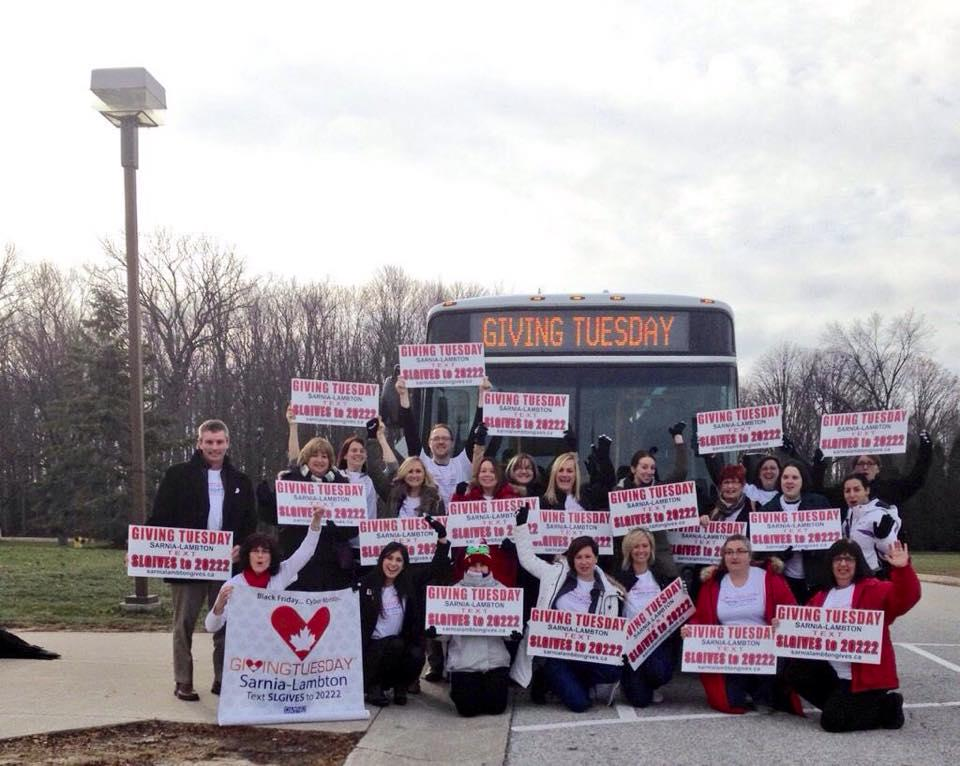 Get involved with a local civic movement. In 2015, the 3rd year for GivingTuesday in Canada, there was a groundswell of GivingTuesday activity, organized by local civic groups in 22 cities across the country. Mayors, from coast to coast proclaimed December 1st, 2015 as "GivingTuesday". These civic movements created a platform for a deeper level of engagement between charities, businesses and local residents. CAGP chapters and Leave a Legacy leaders are uniquely qualified to lead this kind of initiative or join an existing group.
Amplify your year-end campaign. GivingTuesday is a great opportunity to shine a spotlight and enhance your existing campaign. Take advantage of the social media buzz and use the platform to get your campaign messages out and reach a broader audience. This means very little new work but a chance to highlight the great work already being done.
Start the giving conversation early. Many organizations have used GivingTuesday as a successful conversation opener, particularly with major donors. It's great to get them thinking early about asset based giving and including a charity in their Will, allowing enough time to make it happen before year-end.
Amplify National Philanthropy Day messages - recognizing and celebrating major donors. Each year many of our Chapters partner with the local Association of Fundraising Professionals around National Philanthropy Day. There are plenty of great life-changing donor stories and their impact, shared in your community on this day. Take this chance to get these stories out to the public as well. Take those stories and the great content created and share them as a Chapter on GivingTuesday this year!
Build a matching gift program. Consider leveraging an existing corporate or private gift as a match on November 29th to encourage new donors or increase commitments from existing donors. You can also get your board involved in the campaign by approaching them for matching gifts or encouraging participation if they are not at 100%.
Deepen Donor Relationships. You can also use this opportunity to build and strengthen relationships with your individual donors as they see GivingTuesday messaging in the news and hear about it locally. Why not book some major and planned giving donor meetings for GivingTuesday or invite them in for a tea or lunch to celebrate and recognize the culture of philanthropy they have created in your community? Chapters who did this have reported further and greater year-end giving last year!
Make some noise! Social media is a bigger driver than ever, not only for story telling and mission awareness but for new donor acquisition. Last year #GivingTuesday trended all day on Twitter, creating a massive generosity buzz. Ask your staff, volunteers, board and loyal supporters to share your messages on their social channels. Check out this twitter compilation and see what hundreds of public figures did in 2015 to help draw attention to their favorite causes.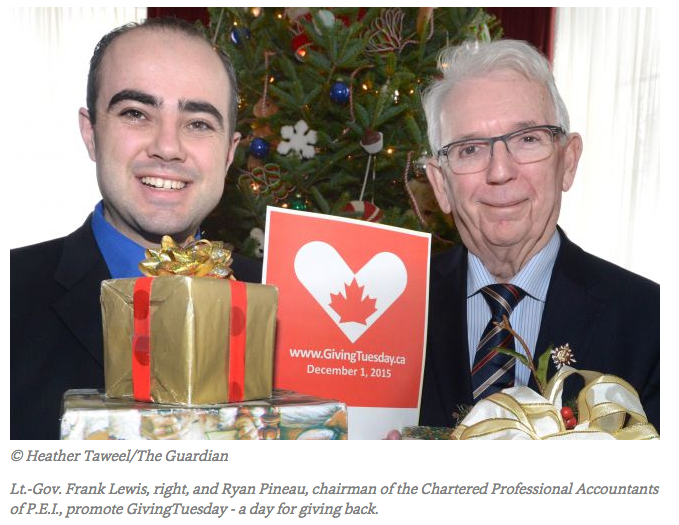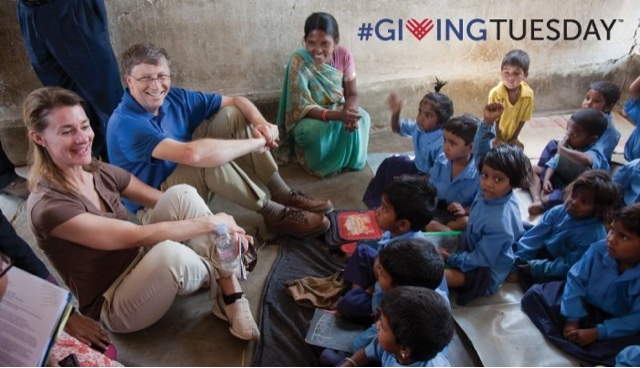 Whichever ways you choose to get involved, join the GivingTuesday movement this November 29th and help make a difference for your organization and your community!
If you have questions or comments please contact us or visit our website. We also invite you to join the conversation on our social media:
And last but not least, you can watch this webinar that has suggestions for CAGP Chapters on how to take advantage of GivingTuesday in engaging Major & Planned Giving Donors:
Lys Hugessen
President, GIV3
---
Great reads this month:

;