CAGP CEO Ruth MacKenzie speaks on IMPACT at The Walrus Talks Ottawa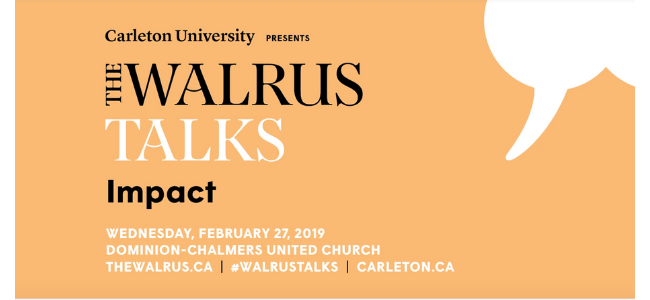 March 8, 2019
On February 27, 2019, CAGP CEO Ruth MacKenzie was part of an esteemed group of speakers who were invited to speak on the topic of IMPACT at Carleton University. The Walrus Talks is a national series of events about Canada and its place in the world. Each event offers thoughtful, inspiring thinking from scholars, writers, performers, scientists, artists, and business leaders.
The new landscape of philanthropy, giving with impact, and creating meaningful change.
The other featured speakers for the evening were:
Rita Celli, host of CBC's Ontario Today
Justin Wiebe, capacity building specialist at Ontario Trillium Foundation
Rob Sobey, corporate director and philanthropist
Kaite Burkholder Harris, community planning officer at the Canadian Observatory on Homelessness
Jenna Richards, artistic administrator for the Ottawa Chamber Music Society
Susan Phillips, Professor Philanthropy and Nonprofit Leadership at Carleton University
We are so proud to share Ruth's talk with you on how to leave a legacy through generosity.