MFA-P™ Designation
Become a certified professional in the evolving field of philanthropy. Build trusting relationships with your clients and help them make a difference in the world through charitable giving.
There is an emerging investment trend increasingly important to investors of all ages: strategic philanthropy. But few advisors deliver what clients want: how to integrate personal values with tax and financial plans. Now you can address this need by earning your MFA-P™ Designation.
The MFA-P™ has specialized professional credentials to enable high-value planning for individual or family legacies. In this dynamic program, learn to have highly satisfying conversations with clients sooner in your relationship, address their big fears: that gifts will not be used wisely or according to personal passions and wishes. Then, provide a consistent process for giving solutions with investments that are tax-efficient, during lifetime and as part of a personal or family legacy.
OBTAIN SPECIALIZED CREDENTIALS TO LEAD HIGH-VALUE CONVERSATIONS WITH CLIENTS ABOUT LEGACY PLANNING.
The program consists of three certificate courses:
Introduction to Strategic Philanthropy
Understanding the Charitable Sector
Integrating Giving with Client-Centric Planning
The third course in the program features exposure to practical case studies and strategies used by some of the most experienced charitable gift planners in the country.
The flexible program features personal instructional support and includes all materials to complete the course and testing requirements. Time to be spent on the program varies with individuals, but an estimated 60 hours over a one-year period is the recommended study period.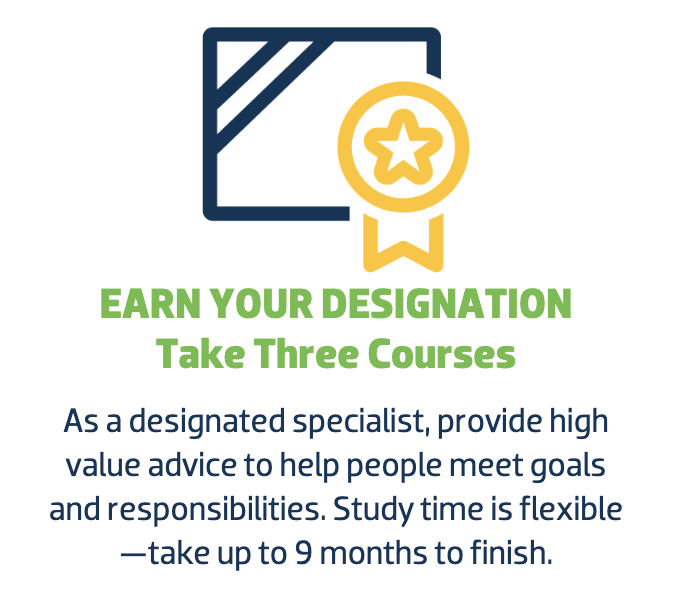 ---
Become a certified professional in the evolving field of philanthropy.

This route to receiving the MFA-P™ designation is reserved for the most experienced charitable gift planners.
In order to qualify under this route, candidates must submit a detailed case study and meet or exceed experience criteria. Each application is subject to the review of the MFA-P Advisory Board and each successful candidate must have the approval of that Board. It is reserved for those who are further down curve with their experience and knowledge and can demonstrate what it takes to be a sophisticated charitable gift planner – both financial advisors and others working in the charitable sector — an important opportunity will be provided to designate those who want to have the MFA-P™ designation from a leadership point of view.
Grandfathering candidates will be enrolled in the program from the time of application and may wish to complete any portion of the program over a three month period of time to have the base of knowledge to champion the program as a leader, mentor students if asked and become an influencer for high standards of proficiency in regards to the program.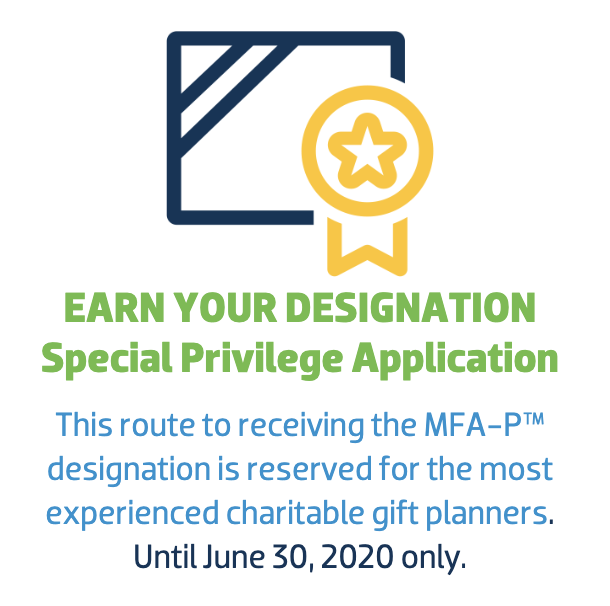 ---
CONGRATULATIONS TO THE FOLLOWING CAGP MEMBERS* WHO NOW
HOLD THE MFA-P DESIGNATION
Christine Beaumont
Janice Benatar
Peter Bennett
Nicola Elkins
Michael Flux
Ryan Fraser
Cory Gagnon
Arundel Gibson
Joanne Goodrich
Mark Halpern
William Hirtle
Lorraine Hopkins
Lorne Jackson
Jane Lapointe
Tracey McLennan
DeWayne Osborn
Laily Pirbhai
Theresa Butler Porter
Pam Prior
Les Ross
Tanya Rumble
Jo-Anne Ryan
Greg Snider
Keith Thomson
Hunter Wang
Ross Young
*As of May 21, 2020

;