How Do Online Wills Fit Into the New Gift Planning Landscape?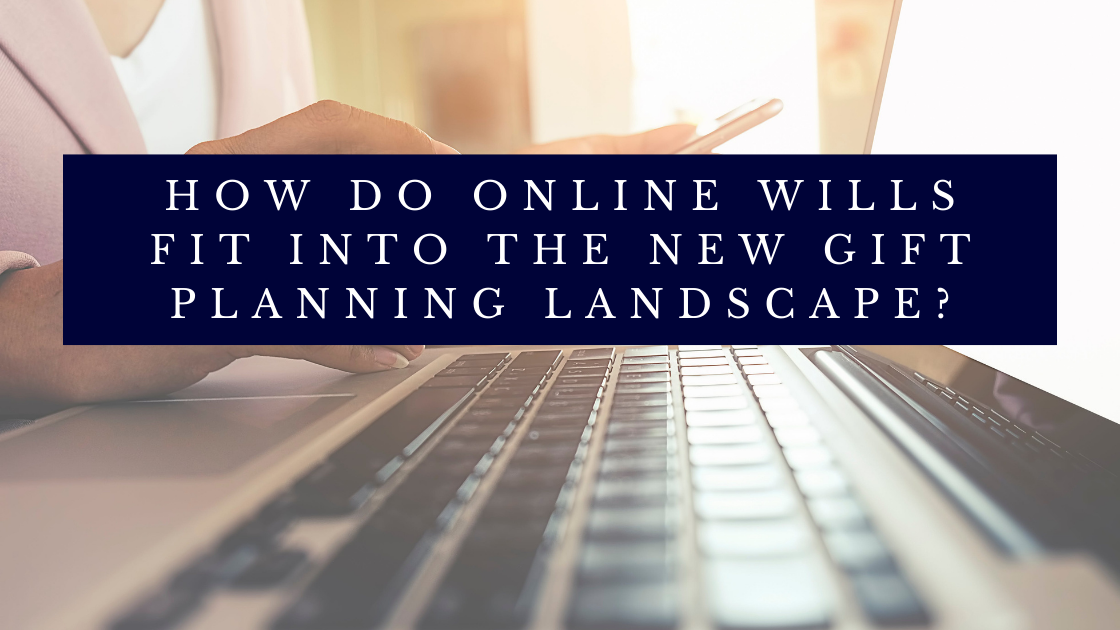 January 12, 2022
Co-authors:
Canadian Association of Gift Planners (CAGP)
Tim Hewson, President, Legal Wills
Erin Bury, CEO, Willful,
Arin Klug, Co-Founder, Epilogue
Online Will writing is exploding in Canada, fueled by entrepreneurs who see a need in the market, better technology, changing demographics (did you know that the oldest Millennials are now 41?), and of course, COVID-19 making us all more aware of our mortality.
What does this all mean for the CAGP community?
Online Will writing may just be the right fit for many donors and clients – those with basic estate planning needs, including younger people who are writing their Will for the first time for example. The excellent news is that several online Will writing platforms have a specific prompt around leaving a gift to charity in a Will, a simple ask that is generating a lot of charitable bequests!
It's true, for many donors and clients, the need for extra support from a lawyer or notary is still a necessity – people with larger estates, more complex wishes with respect to distribution, or anyone who wants to obtain tailored advice. In Quebec, a Will written by a notary also means the Last Will and Testament is officially registered, and can bypass the probate process. (Although online Will platforms such as Willful are starting to offer notarial Wills as well.)
But the reality is, online Will platforms are growing in popularity because they support the many Canadians who have basic estate planning needs, and for whom the traditional method of drafting a Will may be too cost prohibitive or time consuming. For these individuals, having the option to create and update their Will online provides an alternative to having no Will at all - and no Will means a lost opportunity for charitable bequests.
Understanding online Will platforms
Are Wills written online legal?

To be valid, a Will simply needs to be written by someone who is old enough to make a Will (the age varies by province) and is of "sound mind".

Once a Will has been created (either by a lawyer or with the help of an online platform), a hard copy of the Will must be signed by the Will-maker in the presence of two witnesses. Those two witnesses must also physically sign the document in the presence of the Will-maker and each other.

So, yes, someone can legally prepare their own Will using an online platform, provided they then follow the steps to make the document legal where they live.

Lastly, it is important to note that any Will can be challenged after someone passes – regardless of whether it was prepared by a lawyer, a notary, or an online Will platform.

How do online Will platforms work?

There is a wide range of quality when it comes to Wills that can be created online, so it is important to do your due diligence. Some online Will writing platforms, like Legal Wills and Willful, were built in consultation with estate lawyers or notaries. Epilogue, a more recent entrant into the online Will space, was designed and created by experienced estate planning lawyers themselves.

One of the major benefits of today's online Will platforms is that they can be customized. Online platforms are designed to provide step-by-step guidance to help someone make a comprehensive Will. They guide users through a dynamic questionnaire that is meant to be easy to use and easy to understand. Many platforms also offer online customer support and live text chat to help users along the way. The result? A user's answers are compiled to create a custom Will, based on their province or territory of residence.

The best online Will platforms also have built-in safeguards to help users avoid common errors and omissions. Crucially, some online platforms even identify when a person's needs are too complex for an online solution and will refer users to a legal professional to complete their Will.

Another important benefit is that online Wills are easy and convenient to update, which makes it easy for donors and clients to add a charity to their Will at any time (as long as you sign and witness the updated document). Imagine being able to login to your online account, and in 20 minutes update your Will to include a charity that has made an impact on your life!

Are lawyers/notaries and online Will writers at odds with one another?

Many legal professionals understand the need for basic online Will platforms that deal with non-complex situations. They see a need in the market for online services that can help Canadians complete basic estate planning because they also recognize that, for many people, the only other option is to have no Will at all. That's why several modern online Will platforms like Willful and Legal Wills were built with the help of estate planning professionals, while others such as Epilogue were actually created by estate planning lawyers.

As a CAGP community we all know how important it is for every adult in Canada to have a Will. Online platforms are helping to expand access to Will making across the country. Not only that, they are lock-step in our collective effort to make gifts in Wills a social norm, generating millions of dollars in charitable bequest that will ultimately create more social good.

;