Reflecting on CAGP Conference 2017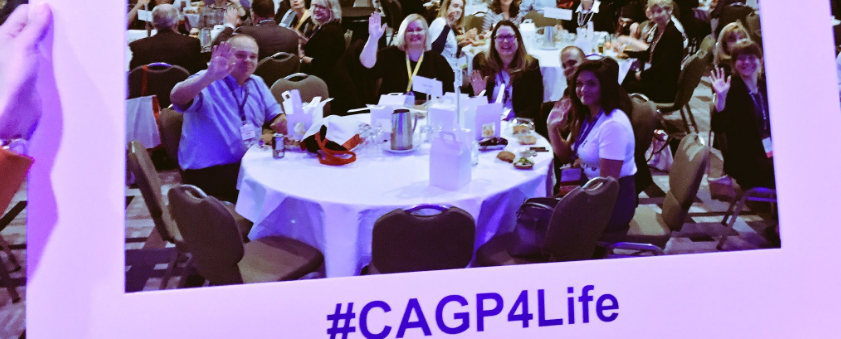 April 11, 2017
Conferences are a funny thing.
They exist in a number of dimensions at once.
For people new to a profession, a job, or to a community - they are an entry into another world. Often overwhelming and seemingly complex, but if the conference team does their job right – that person leaves with new knowledge, connections that could help achieve new goals, and comfort knowing that new heights can be conquered. For others it's a break from the operational and a chance to immerse into the aspirational. They can dive into and advance their technical knowledge, think about strategy instead of reacting, and most excitingly - they can tap into the inspiration of why they do this work in the first place. For many, a good conference builds resilience they can take back to the office to continue to fight the good fight.
For the rare few, who are longstanding members of a community - it is a chance to reconnect with valued peers, do some mental jousting with intellectual rivals, and still grab a drink and a laugh after.
And. There's coffee. Lots of coffee.
The 24th Annual CAGP National Conference in Toronto was sold out, as our leader Ruth MacKenzie and the local host committee were very proud to share.
400 professionals from across Canada, from coast to coast to coast who engaged and added to the conversation of advancing strategic philanthropy.
In speaking to many of the attendees, speakers and sponsors, three themes stick out in their comments that unpack the value of why people came and continue to be at this gathering:
Diversity of people. This is a loaded word and so often mistaken for just the single dimension of ethnicity. But what people most remarked was the diversity of who attended. The geography was indeed a key factor in adding to the flavour of what giving looks like in different parts of Canada. Leaders in charity law and planning engage each other and teach those of us working in charities to leverage the tax and strategy that is unique to the way we help donors give. And it was exciting to see more young professionals and experts transitioning from second and third careers into our line of work. CAGP is one of the only places that finance staff from charities find a home and can congregate with their peers. The discussions and insight into how operations meet fundraising and the connections made for peers to help each other is what is often cited as the top value of the conference to people who work in the profession already and those attending for the first time.
Meeting of minds. One of the more unique things and one of the great blessings of our community is how many of our exhibitors and sponsors are some of the strongest contributors to our profession. Having them support the 2017 Conference was part of their business development, no doubt, but many of them were also speakers sharing their knowledge and expertise, and have been members of CAGP since founding. This year many new faces in the exhibitor area from the professional bodes of our advisors and the estate and philanthropic community was an exciting shot in the arm to the discussion around how we do what we do. We are so lucky to have highly technical translators of tax, law, planning, data, operations, marketing, dialogue as active members and leaders in our 19 CAGP Chapters. The plenary sessions - from the challenging questions posed by Bruce Macdonald of Imagine Canada, to the funny but powerfully insightful Lorna Somers who planted the seeds of our profession alongside CAGP's founding father Frank Minton, to the futurist Don Tapscott who presented via Skype from Malaysia and got everyone thinking about the possibility of how connected networks will change our world, and our work – were extraordinary. And who could forget our thoughtful and memorable FRANK Talks? If you weren't in the room – they were recorded and will be up on CAGP's YouTube channel soon. Parental discretion is advised.
Evolution of CAGP. At our AGM we saw a new Chair of the Board of Directors ascend from our ranks, more new faces in our leadership, an increasingly financially healthy association but most excitingly one that isn't embracing the status quo. With the launch of the new CAGP Foundation we as a community are starting a meaningful conversation about CAGP's legacy and taking part in is the growth of the association,. beyond membership and walking into a world of intellectual and operational tribes. Where attendance is less based on who can afford to attend and whose job description includes what and what part of the country you come from to meeting people where they are. This is tectonic and iconic change.
And the attendees had fun. Surf the hashtag #CAGP17 on Twitter to see for yourself (and relive the moments!).
From enjoying fine dining together, to cheering on Raptors, to wandering the city, new networks were born and old connections were rekindled.
But what about the vehicles! Just like we keep saying to each other that tax isn't the main inspiration for donations, gift vehicles were a big part of the conference.. The many sessions on annuities, insurance gifts, donor advised funds and Master Classes on new strategies for gift planning were top notch. But if it were an auto show, many of these are the exciting cars that are driven by those who fit that age and stage of charity or advisor group. What continues to bring value is the Ford F150 (Canada's REAL top selling automobile) of planned giving; the bequest. Every Canadian has a legacy to impart and we all continue to come together to state our big challenge to ourselves and the association – how do we serve every Canadian to create and leave a legacy?
And this is the question I pose to you dear reader.
This is not an 'article', this is a living breathing conversation and we need your voice! Were you wearing a 'red lanyard' at the conference (indicating this was your first time attending) Were you a veteran attendee still wrasselin' with this question?
I will admit that conferences can often feel like inside jokes and can create cliques and groups that feel exclusive – but every year we do our best to be inviting and inclusive.
Can you share your experience below if you attended? Every conference has surveys but they usually get comments like "the muffins on Thursday were dry".
Please, invest a few minutes sharing your impressions and experience. Especially what insight you gained and what value you took from the time and funds you invested in being at CAGP 2017.
---
Have you written a blog post on #CAGP17? Please share it with us, we're so happy that members like Aimée Lindenberger who wrote CAGP 2017 Top Ten Takeaways have shared how they found value in attending!

;