Government Relations & Advocacy
2020
Gifts of Life Insurance Policies​ [February 2020]
CAGP guidance regarding charitable gifts of life insurance
post announcement by BC Financial Services Authority
In June 2019, CAGP was made aware that a Canadian charity had received an enforcement letter from the British Columbia Financial Institutions Commission (FICOM), the insurance regulator in that province; now renamed the British Columbia Financial Services Authority (BCFSA). The charity was notified that acceptance of donations of life insurance policies is considered trafficking and is in contravention of the BC Insurance Act, and that a charity cannot solicit for life insurance policies in BC or accept any life insurance policies as donations from BC residents. In fall 2019, we were also informed that a second charity has received similar warnings from the regulator.
Discussions
The position taken by the BC Regulator is concerning because accepting donations of life insurance policies is a common and established practice for many charities in Canada. Further, while this matter pertains to the province of British Columbia, language in the equivalent statutes in other provinces is virtually identical to BC's Insurance Act, raising a concern that this issue could emerge elsewhere in Canada.
What we know
Over the past several months, while efforts on several fronts to gain clarity from the regulator have been made, minimal additional information has been made available. However, BCFSA has recently advised that it is undertaking a thorough review of the matter and will provide a response when it has completed its assessment and review.
This issue pertains only to situations of the transfer of the insurance policy itself, and not situations where the donor remains the owner of policy and names the charity as a beneficiary.
Differing views have been expressed by insurance companies about the meaning of these letters which has added to the confusion about where the line is drawn and what exactly the regulator understands is offside.
Donors and charities are encouraged to seek legal advice when considering gifts of life insurance, other than a standard designation of a charity as a beneficiary.
CAGP Viewpoint
CAGP's view is that life insurance policies remain an important strategic charitable giving tool and as such we are continuing to promote the fundraising opportunities life insurance provides and to include
comprehensive information regarding this potential method of giving in all of our education offerings. CAGP will continue to monitor the matter and provide further clarification or information as it becomes available.​
---
2019
Gifts of Life Insurance & British Columbia's Insurance Regulator [November 2019]
We wanted to provide our members with an update further to the alert shared in the November 7th CAGP eNews regarding the solicitation of gifts of life insurance, and recent enforcement action taken by the BC Financial Services Authority (BCFSA, formerly the Financial Institutions Commission, FICOM), the regulator of the Insurance Act in British Columbia. BCFSA has advised a charity in British Columbia that accepting donations of life insurance policies as donations from a BC resident is in contravention of the Insurance Act. The charity was directed to amend its website to specifically note that BC residents are not eligible to donate life insurance policies. This action appears to relate only to the actual donation of the policy – not to situations where a donor has designated a charity as a beneficiary under a policy.
CAGP's Government Relations Committee discussed this matter at its meeting this week. Efforts are underway to communicate further with BCFSA in order to gain greater clarity as to its interpretation of the Insurance Act and its position on the matter. We will continue to monitor the situation. We are also monitoring discussions underway by other associations whose members have an interest in the situation, such as the Canadian Bar Association and the Conference for Advanced Life Underwriters, as well the emergence of any similar action by insurance regulators in other provincial jurisdictions.
The GR Committee cannot advise members on a specific course of action on this issue, but does want to bring it to your attention. Those charities who receive insurance policies on a regular basis may wish to contact their advisors. For those members in British Columbia, we share this notice from Norton Rose Fulbright and their recommended steps for charities in that province.
We know this is an issue of significant importance for charities and for CAGP members and, as we know that gifts of life insurance are an important planned giving tool, CAGP shares your concern. We are committed to staying apprised and keeping you informed.
Members are invited to reach out to our President & CEO, Ruth MacKenzie at rmackenzie@cagp-acpdp.org or 613.232.7991/888.430.9494 x223 with any questions, concerns or additional information.​
CAGP Government Relations Update [October 2019]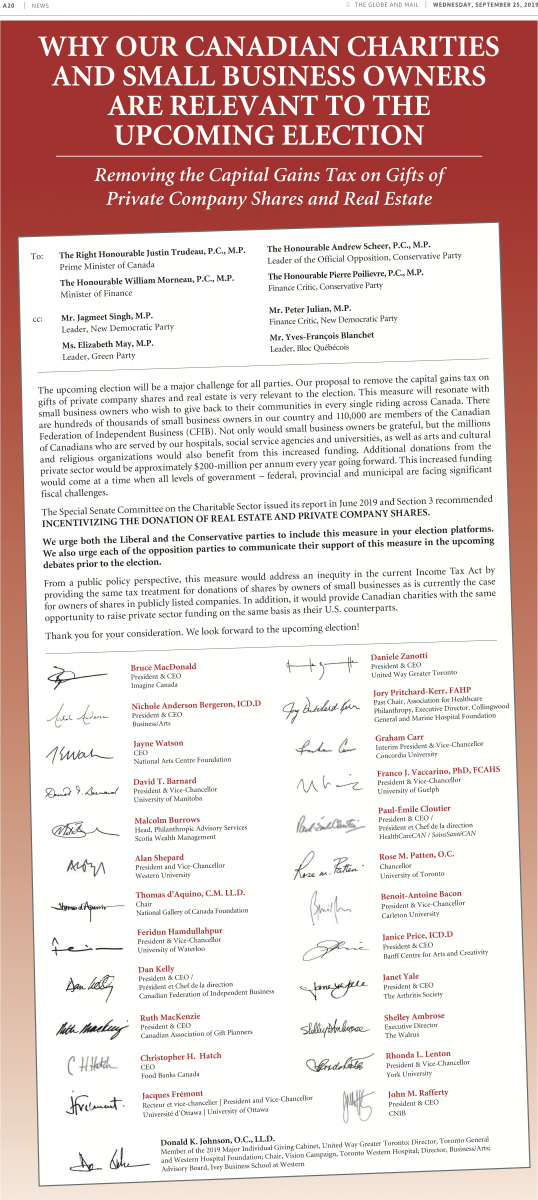 Full page advocacy letters were published on September 25th, 2019 in 13 newspapers across Canada, signed by charities located in each province. Letters signed by national umbrella organizations, including CAGP, were published in the Globe and Mail, the National Post and the Ottawa Hill Times. Attached are PDFs of the letters published in the Globe and Mail and the Toronto Star. A total of 156 charities signed these letters across the country.
Each organisation who signed has asked key staff and all of their board members to meet in person with their local M.P. and explain why this measure would benefit the people in their constituency who depend on the vital services provided by their charity. Raising awareness of this issue with all M.P.s across Canada will increase the chances of all parties including this measure in their election platforms.
2018
CAGP Government Relations Update [September 2018 eNews]

Despite the Government's summer recess, CAGP was active with its government relations activities. In June, CAGP wrote to Senator Terry Mercer, Chair of the Special Senate Committee on the Charitable Sector to convey CAGP's support and offer assistance in their information gathering and deliberations. In August, in response to its 2019 pre-Budget consultations, CAGP made this submission to the Federal Government's Standing Committee on Finance. Finally, on Monday, September 17th, CAGP's President & CEO, Ruth MacKenzie, was invited to speak to the Special Senate Committee on the Charitable Sector. Ruth appeared along with Donald K. Johnson and Adam Aptowitzer to discuss funding of the charitable sector, with a specific focus on the tax benefits as well as donating private company shares and real estate. We are pleased to share Ruth's speaking notes.
2017
2016
2015