Research & Publications
NEW REPORT: Influence, Affluence and Opportunity: Donor-advised Funds in Canada
We are thrilled to announce the release of a new research report, Influence, Affluence and Opportunity: Donor-advised Funds in Canada, produced in partnership with CAGP Foundation and KCI. This brand-new report follows research done in 2018 and 2021 and discusses the latest information on Donor-advised Funds, presents the scope and growth of DAFs in Canada, discusses misconceptions, and suggests ways to improve how DAFs can support donors and Canadian charities.

---
Charitable Donations of Life Insurance - CAGP Guidelines
[April 6, 2021] Following concerns expressed in recent years by some insurance industry regulators regarding the use of life insurance as a charitable giving vehicle, it was recommended that interested parties establish best practices to ensure appropriate processes and measures are followed when making use of insurance products for charitable donation purposes. CAGP has created this series of user-friendly information resources intended to provide straightforward guidance and direction to fundraisers, professional advisors, donors, and insurers when creating and facilitating charitable donations using life insurance:
---
EXCLUSIVE ACCESS TO THE SPECIAL REPORT EXECUTIVE SUMMARY FOR MEMBERS ONLY:
Donor-advised Funds: The Intersection of Philanthropy and Wealth Management
Does your charity, federated network or firm want insight into one of the fastest-growing philanthropic trends in North America? Have you heard of Donor Advised Funds and want your team to have informed Canadian insight?
While donor-advised funds are not new, they are enjoying heightened visibility within the charitable community and wealth management sector. A donor-advised fund (DAF) is a private account within a public foundation which may be a community foundation that administers DAFs in addition to other funds, a charity that offers supporters a DAF as a giving option or a public foundation connected to a financial institution. The funds are subsequently granted by the foundation, often over time, to operating charities on the advice of the donor. Given the increased awareness of DAFs, the trends in the creation and ownership of wealth in Canada, the $1 trillion transfer of wealth projected for the next two decades, and the increasingly active role in philanthropy being played by financial institutions, financial advisors and community foundations, we anticipate that assets held in DAFs, and the flow of grants from DAFs to charities, will continue to increase.
Investor Economics has authored a report on Donor Advised Funds in Canada and has generously offered a significant discount for access to this report. In addition to the generous discount, CAGP Members can download the detailed Executive Summary completely free of charge.
---
CAGP MEMBER EXCLUSIVE DISCOUNT ON THE FULL REPORT:
Donor-advised Funds: The Intersection of Philanthropy and Wealth Management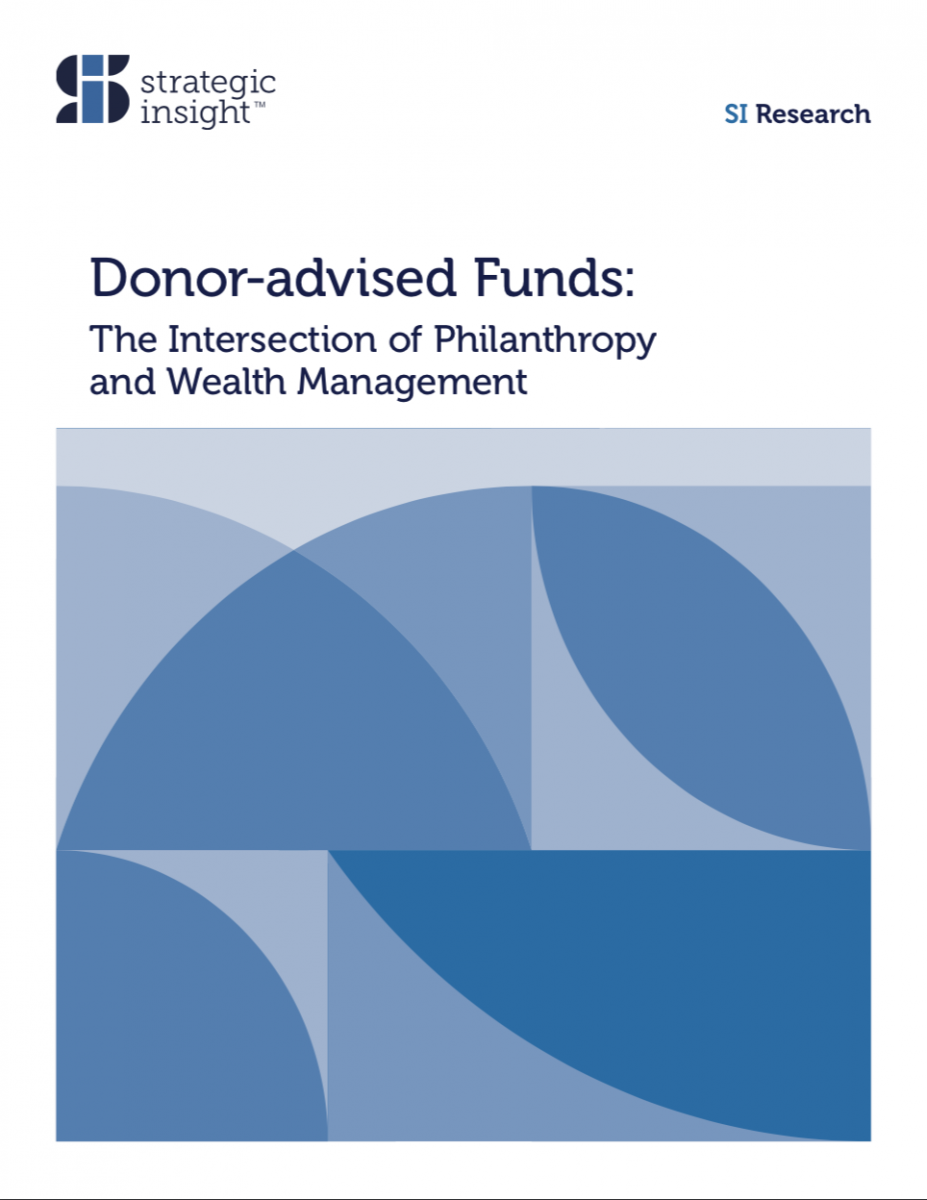 Investor Economics, the Canadian unit of Strategic Insight, has a number of institutional clients that are at the forefront of developments that are taking place in giving methods and structures for Canadian donors, as well as clients who are curious as to what impact DAFs might have in the expansion of their wealth management service offer. With those clients in mind, Investor Economics is pleased to publish this report on DAFs. This report will provide a primer for some and will enhance the knowledge of others. As with all their publications, it is objective and fact-based and aims to stimulate debate and discussion about the current state and the future opportunity of the DAF market in Canada.
Canadian charities price - $2,500. style="outline: none; box-sizing: border-box;">CAGP Charities Member price - $1,500.
LOG IN TO YOUR CAGP ACCOUNT FOR DETAILS ON HOW TO PURCHASE AT THE DISCOUNT
Wealth Management Firms & Corporate Members, please contact Strategic Insight for pricing
---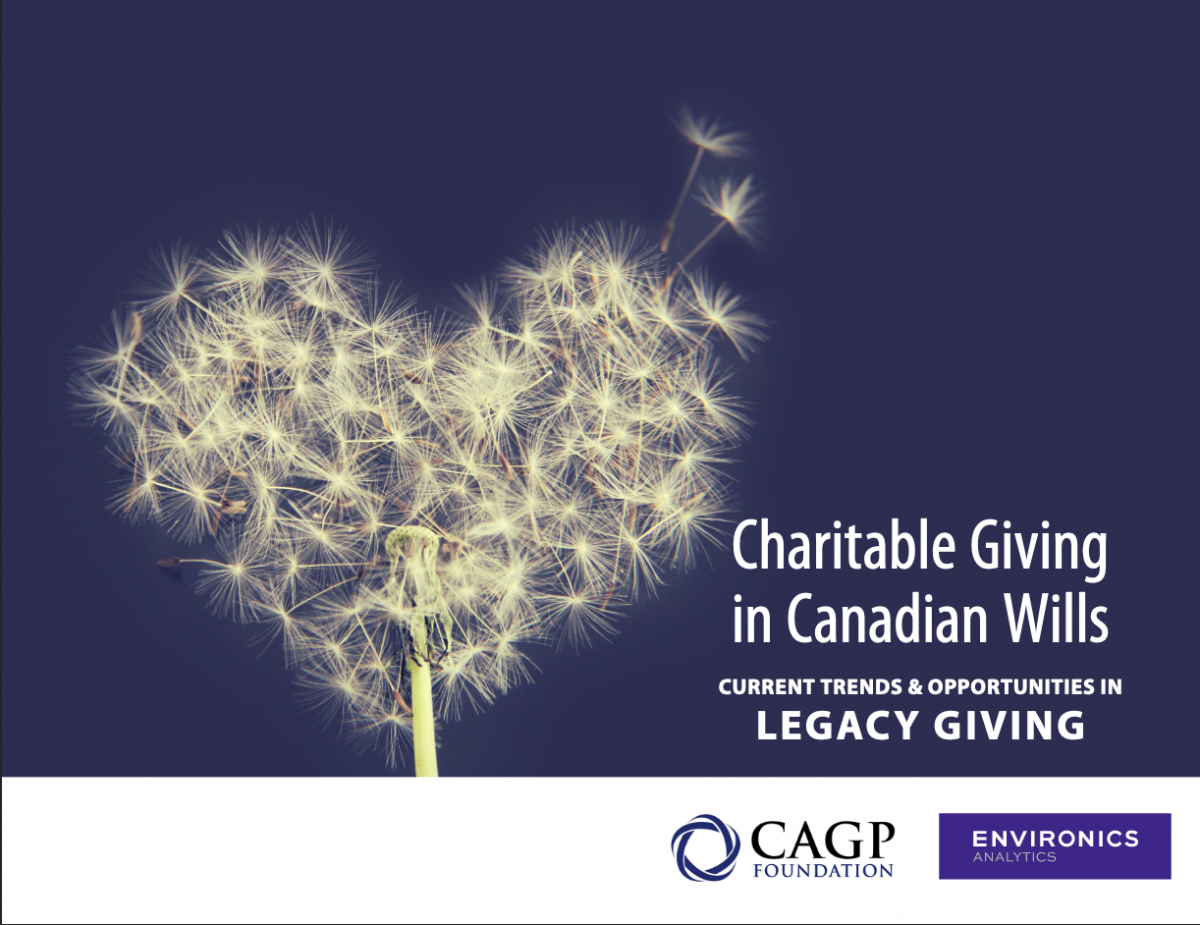 CAGP Foundation Research on Gifts in Wills [2019] - sign up to receive a copy
*This resource is freely available to members in your Member Benefits area.
---
---
Doing Good for Business Research Report, 2018
Executive Summary
Professional Champions of Philanthropy
Kim Abbott, Odlum Brown
Patti Dolan, SAGE Connected Investing
Robert (Bob) Goldberger, Richardson GMP
Mark Halpern, WEALTHinsurance.com
Jeremy Hampson, Assante Capital Management & The Donor Motivation Program
Brenda Lee-Kennedy, PricewaterhouseCoopers LLP
Murray Neilson, Nicola Wealth
Pam Prior, KPMG
Glenn Stewardson, Assante Capital Management & The Donor Motivation Program
Wayne Truscott, BMO Private Investment Counsel
Stephen Webb, Entrust Financial Services
Ross Young, Secure Capital Management LTD
30 Years of Giving in Canada: The Giving Behaviour of Canadians: Who gives, how, and why? Rideau Hall and Imagine Canada Report, 2018
---
;