Finance Masterclass
Finance Masterclass for Nonprofit Leaders - delivered in partnership with the Goodcasting Academy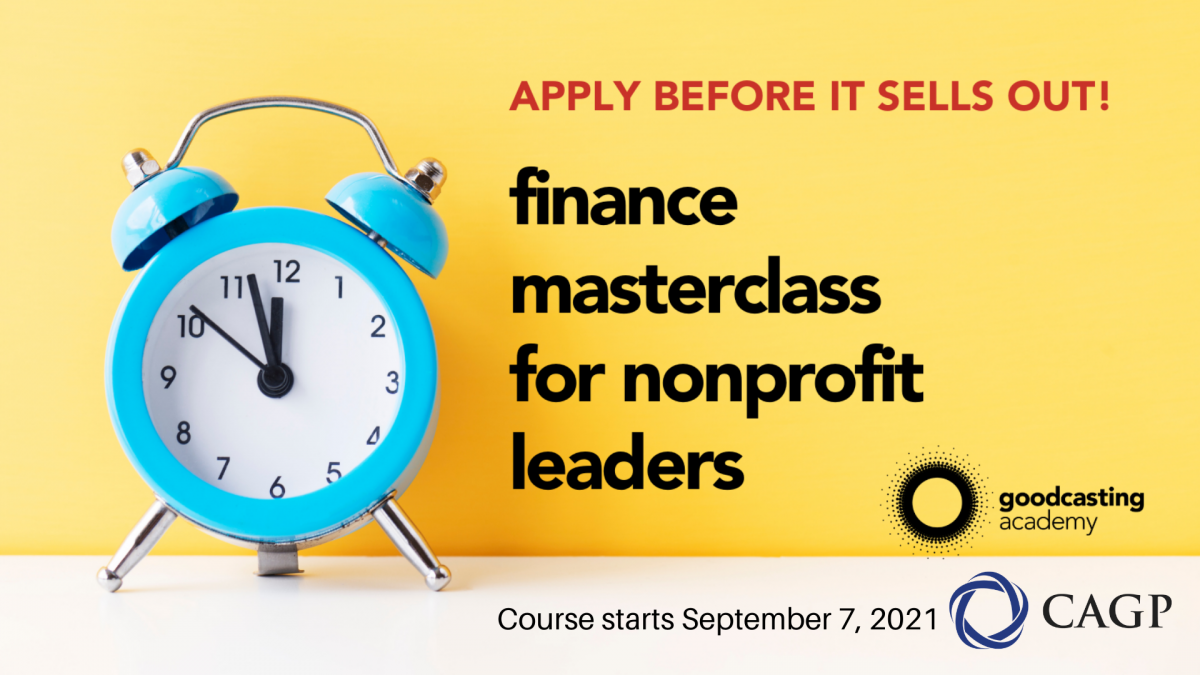 About this course
This course is designed and taught by the Goodcasting Academy - CAGP has partnered with them on this important topic to offer preferred registration to the CAGP network for the September 7 cohort.
This is a 6-week finance masterclass course for nonprofit leaders, PLUS an additional 10 months of the Finance Thrive Community with weekly events to support and inspire you, additional tools, and live webinars and Q&A sessions with experts - all designed to further deepen and embed your learning from the course. Learn the skills, strategies & tools you need to understand finance and to build effective financial strategies.
Course Purpose
The purpose of the course is to equip nonprofit Executive Directors, CEOs and management staff with the finance knowledge, skills and practical tools and templates that will strengthen their finance leadership skills.
Nonprofit leaders will feel more confident and equipped to contribute to and develop financial strategies to strengthen the resilience of the organization, department or program; to understand budgets, budgeting and oversight of budgets and how to integrate strategy with finance to strengthen the organization, department and/or programs
Course Format
6-week online self-paced course
3 Modules and 20 lessons
Lessons consist of a series of short videos that are released each week of the 6 weeks
The videos are interactive and embed short quizzes
Modules include 25 takeaway tools such as templates, guides and checklists
6 weekly live online coaching and Q&A sessions
2 one-on-one coaching sessions with Betty Ferreira FCPA, FCMA during the 6-week program
At the end of the 6-week course you enter into the Finance Thrive Community and receive 10 additional months of support and learning. Each month will include events every Friday including live webinars with key speakers, Ask An Expert sessions, and practice sessions on timely topics and themes.
Who is this program for?
Small to large nonprofit and charitable organizations: Goodcasting will make sure you have the foundation, strategies and tools to strengthen the financial leadership of your organization.
Nonprofit and Charity CEOs, Executive Directors, Directors of Operations, and Finance Managers: You don't need to have any finance training at all. This is not a course in accounting (phew!) – it's a course in financial leadership and as such it is oriented to non-finance and finance leadership positions.
You!: This masterclass membership program is exclusive only to nonprofit leaders that are using the training to strengthen the financial strategies, processes and practices of the nonprofit organization they work for.
Believers: Learners believe that they can strengthen their finance skills and are looking forward to getting the training and tools and templates to help them accelerate their learning and become confident and knowledgeable.
Action-Takers: Learners commit to their learning goals and stay accountable, even when it means stretching their comfort zone. They make time to take the weekly training courses and aren't afraid of showing up to a group coaching session and asking a stupid question because they know that there is no such thing as a stupid question...
Those that open to personal growth: It's true that taking a course in finance will feel like personal growth, because it is. Students want the practical strategies and knowledge to help create resilient organizational strategies and the opportunity to learn.
Those that are ready: Learners are mostly non-finance staff that never received any finance training, but now they are in management and leadership positions and realize that they are not confident enough with their knowledge and are finally ready to take the plunge.
Those who want to be happy!: Learners are happy...no, they are THRILLED that someone just like them developed a finance leadership specifically for them and can't wait to get started
Certificate: Individuals that want a certificate of completion to show funders, donors and their board of director's or their Executive Director that they have invested in themselves and their knowledge in nonprofit finance
Why take this course?
Maybe you were placed in a leadership role or a finance position without enough training in finance.
Maybe you have sacrificed professional development dollars for program staff and now realize that you need professional development too!
Maybe you thought you could leave it to the Director of Finance to figure it out for you…
Maybe you've been trying to avoid any kind of training that resembles math because you didn't do well in math when you were in school
Faculty
This course is designed and taught by the Goodcasting Academy - CAGP has partnered with them on this important topic to offer preferred registration to the CAGP network for the September 7 cohort.
Betty Ferreira FCPA, FCMA
Stephen McCourt CPA, CA
Ninette Bishay CPA, CA, and CAGP Board Treasurer
Plus guest Instructors and speakers
Learn more
Cost
$2,350 + HST for 6 weeks of course learning followed by a 10 month cohort program of weekly sessions, Q&As and more!
Dates
Starting September 7, 2021
How to apply
If you feel you are a nonprofit leader that wants to strengthen your finance leadership skills click APPLY NOW below and complete your application in the form provided. Qualified candidates for the Finance Masterclass for Nonprofit Leaders will be contacted by Goodcasting to set a date for a call to introduce the program, learn about your learning objectives, and discuss the program curriculum to ensure it's a perfect fit.

;