Continuing Education Credits
CAGP provides many opportunities to further education in the world of gift planning. CAGP also supports current certifying bodies that have included gift planning in their listed curriculum enabling CE credits. CAGP has formally partnered with the following to offer CE credits for their educational offerings.
---
CFRE International (Certified Fund Raising Executive)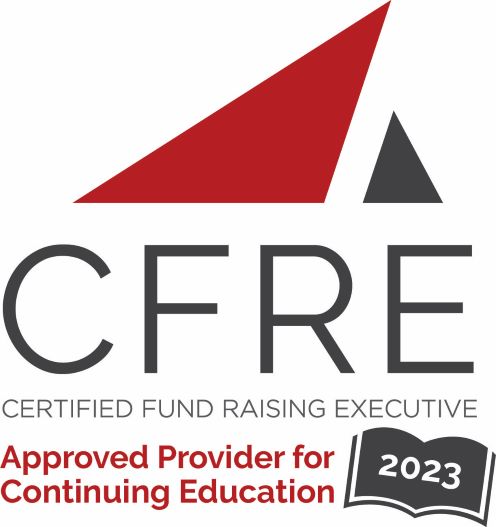 CFRE International offers an internationally recognized baseline professional credential for philanthropic fundraising executives. Based on current and valid practice-based standards, the Certified Fund Raising Executive (CFRE) designation is a personal and professional achievement that sets standards in philanthropy. The CFRE credential demonstrates an individual's mastery of the standards set for core knowledge and skills required of fundraising executives after five years of experience.
This practice-based designation requires demonstration of having met these standards through both a written application and an examination. CAGP is an approved Continuing Education Provider for CFRE. This means that we submit our programs to CFRE International for review to verify that the programs meet CFRE International's continuing education standards. Only those CE Providers who have registered programs with CFRE International may advertise that the programs have been pre-approved by CFRE International for Continuing Education Points on the CFRE application for both Initial Certification and Recertification.
CAGP National Educational Events provide continuing education points for the following courses and events:
Gift Planning Fundamentals (7 points)
Practical Philanthropic Conversations (9 points)
Original Canadian Gift Planning Course (approx. 28-32 points)
Strategic Gift Planning Bootcamp (approx.17-19 points)
The CAGP Annual Conference (approx. 16 points)
CAGP Webinars (each 1-hour webinar is worth 1 CFRE point)
To learn whether your local Chapter event counts toward CFRE credits, please contact your Chapter Education Chair.
CAGP is one of eighteen (18) leading philanthropic associations who have partnered with CFRE and endorse their certification process. As a member of CAGP, you receive a 20% discount on the fee to write your exams for certification or re-certification.
Please visit the CFRE website for more information on becoming a Certified Fund Raising Executive (CFRE), contact CFRE International at learn@cfre.org or 703-820-5555.
---
MFA-P
CAGP offers continuing education hours on your MFA-P relicencing application at one credit per instructional hour. Some programs have a maximum of MFA-P credits offered. Please see the webpage for each program for more information.
---
The Institute for Advanced Financial Education (IAFE)

The Institute for Advanced Financial Education (The Institute) is the leading accreditation body in Canada and provides a platform of standards and advanced knowledge through its designation programs. The Institute currently boasts 5,000 CLU and CHS designates in good standing across Canada. Advocis, its sister organization, is the definitive voice of financial advisors and planners, advocating for professionalism and consumer protection.
CAGP offers accreditation with The Institute for Gift Planning Fundamentals (7 CE Credits), Gift Planning Fundamentals for Professional Advisors (6.5 credits) and certain webinars and annual Conference sessions.
---
FP Canada

A national professional body working in the public interest, FP Canada (formerly Financial Planning Standards Council) is dedicated to fostering better financial health for Canadians by certifying professional financial planners and leading the advancement of professional financial planning in Canada. There are approximately 23,000 professional financial planners in Canada who have met, and continue to meet, FP Canada's standards.Those seeking credits with FP Canada can submit some of our sessions or courses for accreditation directly to FP Canada.

For more information about Continuing Education Credits, contact Erin Kuhns, Manager, Education and Training at 1-888-430-9494 Ext. 222 or email ekuhns@cagp-acpdp.org.

;