Become a Partner in The 2019 Canadian Burk Donor Survey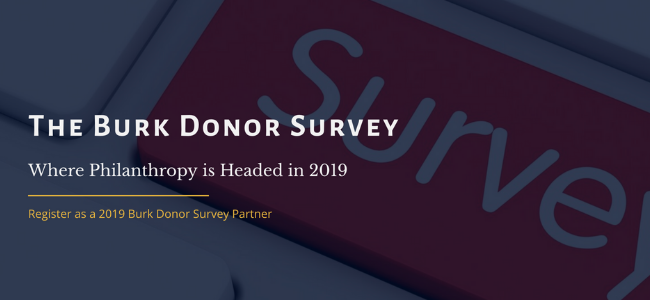 February 11, 2019
The majority of donors with bequests don't tell you that they have named you in their wills. So how do you steward them if you don't know who they are? And, what is the real potential among your other donors who would become planned gift donors if they got what they needed?
CAGP is pleased to announce that we are working with Cygnus Applied Research, Inc. for the 2019 edition of The Burk Donor Survey – this year with a special focus on gift planning in Canada! This national research study will ask thousands of Canadian donors how they are managing their philanthropy in changing times and, especially, what donors feel is the potential for growth in planned giving in Canada now and in the near future.
Cygnus Applied Research has been conducting national and international research studies with donors for over twenty years, and The Burk Donor Survey has been bringing evidence-based information on Canadian donors to fundraisers and charities since 2010. The survey is authored by fundraising innovator and researcher, Penelope Burk, who is well known as the author of the best-seller, "Donor-Centered Fundraising".
As part of this collaboration, not only will CAGP members receive a discount on the purchase price of this groundbreaking survey, we are excited to offer CAGP members the opportunity for their organization's to be a 2019 Survey Partner and invite your donors to complete the anonymous, online questionnaire.
In return for alerting your donors to this project and inviting them to complete the anonymous, online questionnaire, CAGP Survey Partners will receive the following benefits:
FREE: The 100+ page national report of up-to-the-minute findings, including graphs, charts, 200+ inspiring quotes from donors and more than 50 actionable recommendations;
FREE: Private, partners-only webinar led by Penelope to discuss how survey findings can be used to grow your Planned Giving program and improve fundraising performance in general;
And… for any partner that is able to reach out to 100,000 or more donors to invite them to participate in this survey, a free individualized Report comparing your specific donor data with the national findings for all questions in the survey.
Partner registration is open now until April 30, 2019. There is absolutely no financial cost to join and Cygnus will never require access to your donor database. For more information, FAQs and to access the Partner Registration Form, please visit www.cygresearch.com/the-2019-burk-donor-survey-canadian-edition/.